Jumia confirme sa place d'application shopping n°1 au Maroc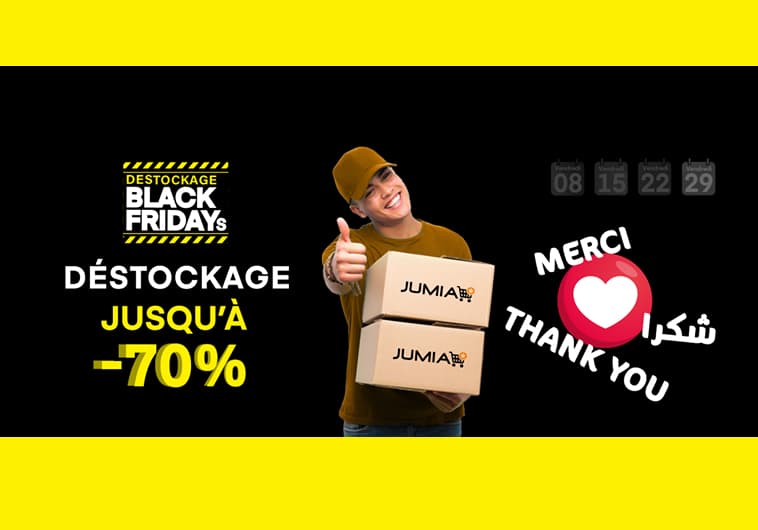 L'événement promotionnel le plus populaire au Maroc a permis à Jumia de battre un nouveau record avec son opération de soldes en lignes la plus importante.
Organisé du 08 au 29 novembre, le Black Friday 2019 a attiré plus de 15 millions de visites sur la plate-forme e-commerce, confirmant une nouvelle fois sa place d'application shopping n°1 au Maroc.
Plus de 2,3 millions de produits discountés
Pendant les 22 jours du Black Friday, Jumia a réuni plus de 1400 vendeurs et proposé plus de 160 ventes flashs, avec des réductions allant jusqu'à moins 80 %. Le nombre des produits soldés disponibles en ligne sur la plate-forme a dépassé les 2,3 millions.
Plus de 28.000 appels enregistrés
Le service client de Jumia a reçu plus de 28 000 appels dont la durée cumulée dépasse les 143 000 minutes, soit l'équivalent de 15 semaines de conversations non-stop. Jumia a aussi cartonné sur les réseaux sociaux, avec plus de 9 millions de personnes touchées par ses publications.
98 % des clients satisfaits
Avec un taux de satisfaction qui frôle les 100 %, Jumia a rempli sa mission en proposant des services encore plus qualitatifs. Les livraisons de la plate-forme ont été effectués en des temps records et Jumia Food n'est pas en reste en ce qui concerne les records. En effet, la livraison la plus rapide a été réalisée au niveau de la ville de Casablanca et moins de 8 minutes. La commande a été exécutée en exactement 7 minutes et 50 secondes.
Des commandes dans tout le Maroc
Autre réussite qui confirme la démocratisation des soldes en ligne : plus de 10 % des produits ont été commandés en zone rurale, avec en top 3 les localités d'Ain Beni Mathar, Ain Sidi Bibi et Riyah. Du côté des grandes villes, Casablanca arrive en tête, suivie de Marrakech, Tanger, Rabat et Agadir.
Plus de 700 emplois créés
Temps fort du shopping en ligne, le Black Friday 2019 a aussi été pour Jumia un tremplin en matière de créations d'emplois. Plus de 250 postes directs ont été créés pour l'occasion, ainsi que plus de 500 postes indirects. Les livreurs de Jumia ont parcouru 15 620 781 KM de km, soit 390 fois le tour de la terre.

Read the original article on The Rolling Notes
About Jumia
Jumia is a leading e-commerce platform in Africa. Our marketplace is supported by our proprietary logistics business, Jumia Logistics, and our digital payment and fintech platform, JumiaPay. Jumia Logistics enables the seamless delivery of millions of packages while JumiaPay facilitates online payments and the distribution of a broad range of digital and financial services.
Follow us on, Linkedin Jumia Group and twitter @Jumia_Group