Majid Al Futtaim (Carrefour) Partners with Jumia to Extend its Seamless Online Offering Across Egypt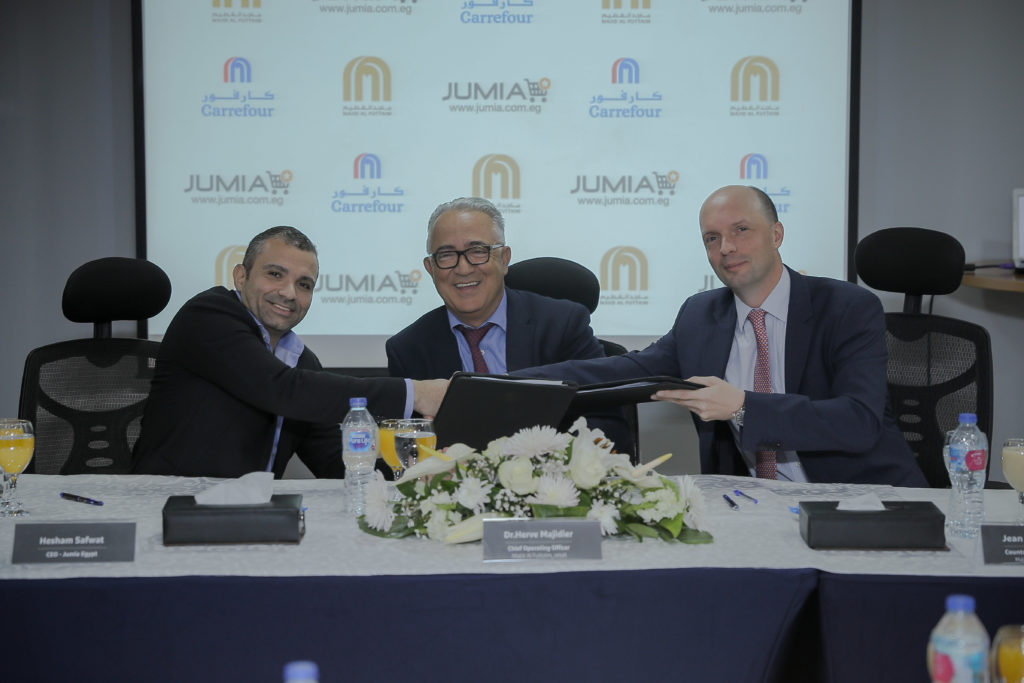 Cairo, Egypt, November 4, 2019: Majid Al Futtaim, the leading shopping mall, communities, retail and leisure pioneer across the Middle East, Africa and Asia, and operator of the Carrefour brand in Egypt, today signed an agreement with Jumia, Africa's largest eCommerce platform, to extend its seamless online offering across Egypt.
Through this partnership, Carrefour is taking its commitment to customer satisfaction beyond its own physical and web presence, to reach more people while giving them the freedom to choose how they wish to shop for high-quality products at unbeatable value.
Carrefour maintains a strong position in the retail industry across Egypt, as a result of our drive to tailor our offering according to consumer preferences. Our collaboration with our esteemed partners at Jumia comes in the same vein, and we look forward to it flourishing as we work towards our goal of creating great moments for everyone every day,
said Jean Luc Graziato, Carrefour Egypt Country Manager at Majid Al Futtaim Retail.
Carrefour's branded store on Jumia will offer a variety of products, with the added convenience of multiple payment options, free returns within 14 days, countrywide delivery It will also feature the same quality and level of service that customers have come to expect from Carrefour's brick and mortar locations.
Chief Executive Officer of Jumia Egypt, Engineer Hisham Safwat added that "This strategic partnership between two of the biggest names in the industry; Jumia as a pioneer of online shopping in the region and Carrefour, one of the most well-reputed retailers in the region. The result of this partnership will result in a direct elevation of customer experience and accessibility to a diverse variety of products."
This announcement comes after the signing of commercial agreements between Jumia and the franchise partners of Carrefour Group in November 2018: Majid Al Futtaim in Kenya, and CFAO Retail for Côte d'Ivoire, Cameroon, and Senegal.
Customers can now begin shopping for Carrefour products on Jumia, for more information please visit www.jumia.com.eg
END
Note to the Editor: The legal name of this company is "Majid Al Futtaim" and should not be shortened or replaced by an acronym to avoid confusion with another business entity.
Disclaimer: All facts and figures in this release are accurate at the time of issuance.
About Carrefour
Carrefour is one of the largest hypermarket and supermarket chains in the world. The brand was launched in the region in 1995 by Majid Al Futtaim, which is the franchisee to operate Carrefour in over 30 countries across the Middle East, Africa, and Asia.
In 1995, Carrefour opened its first hypermarket in City Centre Deira UAE and through the years, expanded to over 285 Carrefour stores in 15 countries across the region, more than 750,000 customers a day.
Carrefour operates different hypermarket and supermarket stores to meet the growing needs of its diversified customer base. In line with the brand's commitment to provide the widest range of quality products and value for money, Carrefour today offers an unrivalled choice of more than 100,000 food and non-food products as well as thousands of household goods.
Carrefour is dedicated to rewarding its loyal customers and offering access to a unique and pleasant shopping experience through special offers and promotions throughout the year. Carrefour is committed to continued business growth in convenient locations across the Middle East, Africa, and Asia to create great moments for everyone, every day. More than 37,000 colleagues work at Carrefour stores operated by Majid Al Futtaim Retail.
Carrefour first opened in Egypt in 2002, and today operates 49 stores and employs over 7,000 employees.
About Majid Al Futtaim
Founded in 1992, Majid Al Futtaim is the leading shopping mall, communities, retail and leisure pioneer across the Middle East, Africa and Asia.
A remarkable business success story, Majid Al Futtaim started from one man's vision to transform the face of shopping, entertainment and leisure to 'create great moments for everyone, every day'. It has since grown into one of the United Arab Emirates' most respected and successful businesses spanning 15 international markets, employing more than 43,000 people, and obtaining the highest credit rating (BBB) among privately-held corporates in the region.
Majid Al Futtaim owns and operates 26 shopping malls, 13 hotels, and four mixed-use communities, with further developments underway in the region. The shopping malls portfolio includes Mall of the Emirates, Mall of Egypt, City Centre malls, My City Centre neighborhood centers, and four community malls which are in a joint venture with the Government of Sharjah. The Company is the exclusive franchisee for Carrefour in a number of markets across the Middle East, Africa and Asia, operating a portfolio of more than 280 outlets.
Majid Al Futtaim operates more than 400 VOX Cinemas screens and 36 Magic Planet family entertainment centers across the region, in addition to iconic leisure and entertainment facilities such as Ski Dubai, iFly Dubai, and Ski Egypt, among others. The Company is the parent to the consumer finance company 'Najm', and a Fashion and Home retail business representing international brands such as Abercrombie & Fitch, AllSaints, Lululemon athletica, Crate & Barrel, and Maisons du Monde. In addition, Majid Al Futtaim operates Enova, a facility and energy management company, through a joint venture operation with Veolia, a global leader in optimized environment resource management. The Company also owns the rights to The LEGO Store and American Girl in the Middle East and operates in the food and beverage industry through a partnership with Gourmet Gulf.
About Jumia
Jumia is a leading e-commerce platform in Africa. Our marketplace is supported by our proprietary logistics business, Jumia Logistics, and our digital payment and fintech platform, JumiaPay. Jumia Logistics enables the seamless delivery of millions of packages while JumiaPay facilitates online payments and the distribution of a broad range of digital and financial services.
Follow us on, Linkedin Jumia Group and twitter @Jumia_Group