Africa Business Leaders' Climate Statement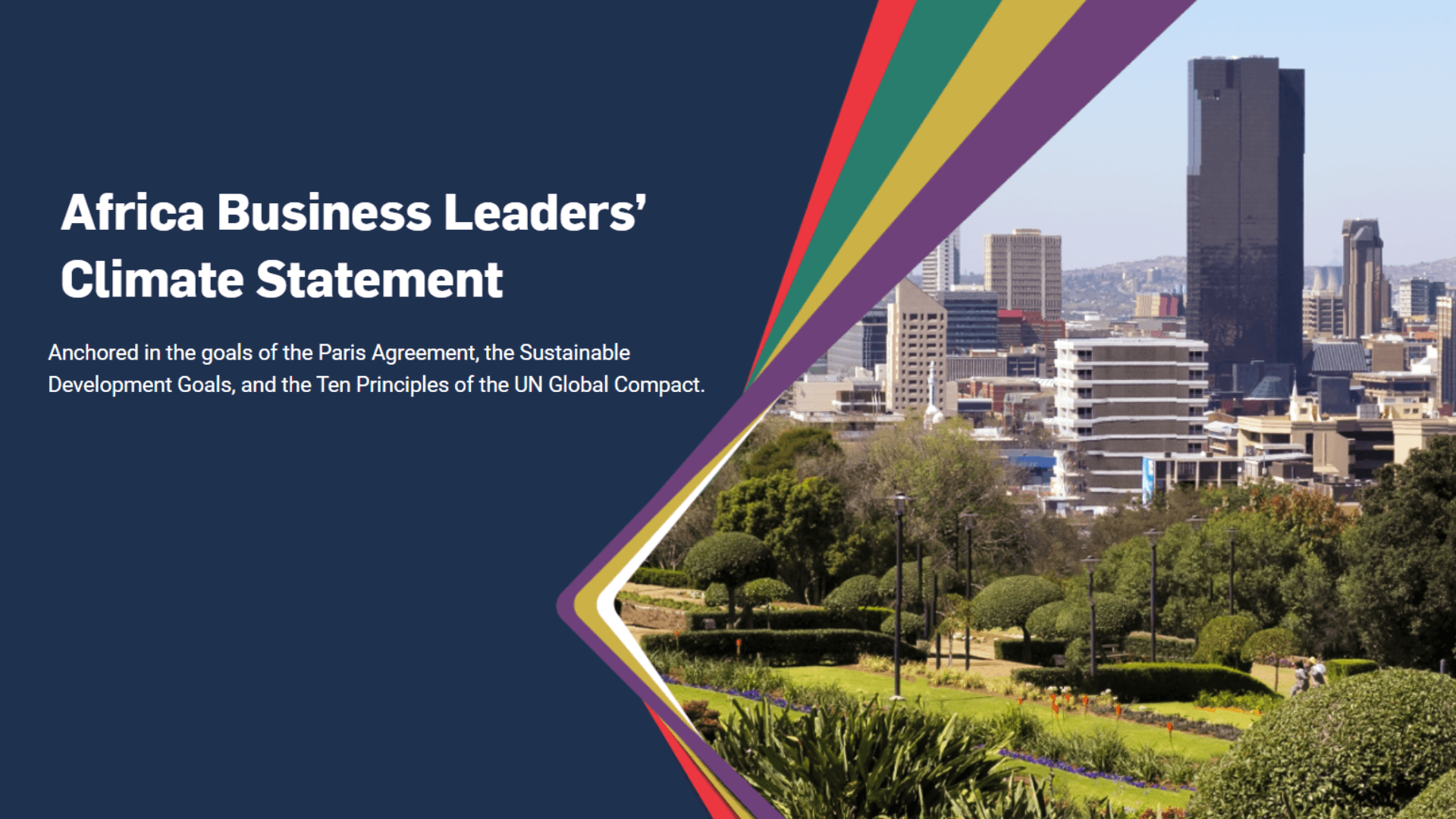 Committed to a sustainable, prosperous Africa
There is no doubt: the multiple impacts of climate change are disproportionately more damaging to Africa than any other part of the world. Climate action is integral to solving the continent's most-pressing issues, and the private sector has a critical role to play.
The Africa Business Leaders Coalition (ABLC) is committed to sustainable development and ambitious climate action by bringing the perspectives of African CEOs and Board Chairs into the global conversation.
Africa Business Leaders' Climate Statement
At COP27 – the African COP – in Sharm El Sheikh, the ABLC released the African Business Leaders' Climate Statement. This statement, informed by the six regional roundtable discussions held by the ABLC from June to August, and signed by 56 African companies from a diverse range of sectors, includes commitments around adaptation and resilience, a just transition and mitigation, and calls to action for the international community to support the African continent in these endeavors.
We commit to participate in the UN Global Compact and to uphold its Ten Principles in our business practices and with our suppliers and customers.
We commit to develop robust company resilience plans to improve our adaptive capacity and build systemic resilience by explicitly accounting for climate risks in our business and investments and enabling our suppliers to do the same.
We commit to uphold the guiding principles of a just transition as central to all our climate actions and advocacy, starting with developing company-level just transition plans, ensuring no one is left behind.
We commit to set company targets to drastically increase the share of renewables in our energy use that will contribute to the continental ambition of 27% of renewable power generation by 2030.
We call on the international community to fulfil and enhance the 100-billion-dollar goal by 2023 at the latest and ensure that at least 50% is invested in adaptation and resilience.
We call for the creation of an enabling environment that facilitates increased access to finance and ensures that African businesses can leverage global markets to accelerate the transition to a future fit economy.
We call African Governments to translate climate plans, such as their NDCs and NAPs, into pipelines of bankable climate projects.
We call on the international community to promote technology and knowledge exchange to make decarbonization and adaptation technologies and knowledge more accessible to local companies, communities, and Governments.
We commit to elevate the voice of the African private sector and bring the African perspective to global stages – such as COP27 – to advocate for the sustainable prosperity of our people, our businesses, and our continent.
Signatories
Arrie Rautenbach, Group CEO
ABSA GROUP LIMITED
South Africa

Dr. Herbert Wigwe, CEO
ACCESS CORPORATION
Nigeria

Segun Ogunsanya, CEO & Managing Director
AIRTEL AFRICA PLC
Nigeria

Stephan Saad, Chief Executive & Head of Board
ASPEN PHARMACARE HOLDINGS LIMITED
South Africa

Hassanein Hiridjee, Co-CEO
AXIAN
Madagascar

Seddiq Hassani, Group Managing Director
BAMBURI CEMENT
Kenya

Brahim Benjelloun Touimi, Director and General Manager
BANK OF AFRICA
Morocco

Olukayode Pitan, Managing Director & CEO
BANK OF INDUSTRY
Nigeria

Habib Ben Saad, CEO
BANQUE DE TUNISIE
Tunisia

Mohamed Agrebi, General Manager
BANQUE INTERNATIONALE ARABE DE TUNISIE SOCIÉTÉ ANONYME
Tunisia

Mohamed Mahmoud Eletreby, Chairperson
BANQUE MISR
Egypt

Nompumelelo Madisa, CEO
BIDVEST
South Africa

Charles Kimani Njuguna, Acting Group Managing Director
BRITAM HOLDINGS PLC
Kenya

Bolaji Balogun, CEO
CHAPEL HILL DENHAM
Nigeria

Bertina Engelbrecht, CEO
CLICKS GROUP LIMITED
South Africa

Nasim Mohamed Devji, Group CEO, Managing Director & Executive Director
DIAMOND TRUST BANK KENYA LIMITED
Kenya

Rita Maria Zniber, CEO & Chairperson
DIANA HOLDING
Morocco

Jane Karuku, Group Managing Director & CEO
EAST AFRICAN BREWERIES LIMITED
Kenya

Ademola Ayeyemi, Group CEO
ECOBANK TRANSNATIONAL INCORPORATED
Nigeria

Sebastien de Montessus, CEO, President & Board Member
ENDEAVOUR MINING PLC
MNC

Dr. James Mwangi, CEO
EQUITY GROUP HOLDINGS PLC
Kenya

Adesola Adeduntan, Managing Director/CEO
FIRST BANK OF NIGERIA LIMITED
Nigeria

Omoboyede Olusanya, CEO & Group Managing
FLOUR MILLS OF NIGERIA PLC
Nigeria

Karim Dostmohamed, General Manager
FRIGOKEN LIMITED
Kenya

Hichem Elloumi, Chairperson & CEO
GROUPE ELLOUMI (COFICAB)
Tunisia

Phumzile Langeni, Chairman and Non-Executive Director
IMPERIAL LOGISTICS LTD
South Africa

Hend el Sherbini, CEO
INTEGRATED DIAGNOSTICS HOLDINGS (IDH)
Egypt

Karim Bernoussi, CEO
INTELCIA
Morocco

Fani Titi, CEO
INVESTEC GROUP
South Africa

Galeb Gulam, CEO
IPS KENYA
Kenya

Juliet Anammah, Chairperson & Group Chief Sustainability Officer
JUMIA
Nigeria

Paul Russo, CEO & Managing Director
KCB GROUP PLC
Kenya

Dr. Toseef Din, CEO
M P SHAH HOSPITAL
Kenya

Imad Toumi, Chairperson & CEO
MANAGEM S.A.
Morocco

Phuthi Mahanyele-Dabengwa, CEO, South Africa
NASPERS
South Africa

Stephen Gitagama, Group CEO
NATION MEDIA GROUP PLC
Kenya

Iain Williamson, CEO
OLD MUTUAL LIMITED
South Africa

Alioune Ndiaye, CEO of Orange Middle East & Africa
ORANGE S.A.
MNC

Yasmine Mohamed Farid Khamis, Chair
ORIENTAL WEAVERS
Egypt

Mohamed Mahjoub LANGAR, CEO
POULINA GROUP HOLDING S.A.
Tunisia

Ahmed Heikal, Founder & Executive Board Member
QALAA HOLDINGS S.A.E.
Egypt

Tarek El Gamal, Chairperson
REDCON CONSTRUCTION
Egypt

Peter Ndegwa, CEO
SAFARICOM LIMITED
Kenya

Paul Hanratty, Group CEO
SANLAM LIMITED
South Africa

Tavaziva Madzinga, CEO
SANTAM LIMITED
South Africa

Alexander van Coller Thiel, CEO of Sappi Southern Africa
SAPPI LIMITED
South Africa

Martin R. Ochien'g, Group Managing Director
SASINI PLC
Kenya

Helmy Abouleish, CEO
SEKEM GROUP
Egypt

Yaseen Abdel-Ghaffar, Managing Director
SOLARIZE EGYPT
Egypt

Orlando Lyomu, Group CEO
STANDARD MEDIA GROUP
Kenya

Mohammed Bouzoubaâ, CEO
TRAVAUX GÉNÉRAUX DE CONSTRUCTION DE CASABLANCA S.A
Morocco

Chris Jardine, CEO
TSEBO SOLUTIONS GROUP (PTY) LTD
South Africa

Peter Njonjo, CEO
TWIGA FOODS
Kenya

Dr. Amir Barsoum, CEO & Co-founder
VEZEETA
Egypt

Mohamed Shameel Aziz Joosub, CEO
VODACOM GROUP LIMITED
South Africa
Read the original article on UN Global Compact
About Jumia
Jumia is a leading e-commerce platform in Africa. Our marketplace is supported by our proprietary logistics business, Jumia Logistics, and our digital payment and fintech platform, JumiaPay. Jumia Logistics enables the seamless delivery of millions of packages while JumiaPay facilitates online payments and the distribution of a broad range of digital and financial services.
Follow us on, Linkedin Jumia Group and twitter @Jumia_Group