"Afrikas Amazon" begeistert Anleger in New York
Jumia will der größte Online-Händler in Afrika werden. Der Börsenstart an der Wall Street ist geglückt. Das Unternehmen hat aber seinen Sitz in Berlin und Rocket Internet ist mit von der Partie.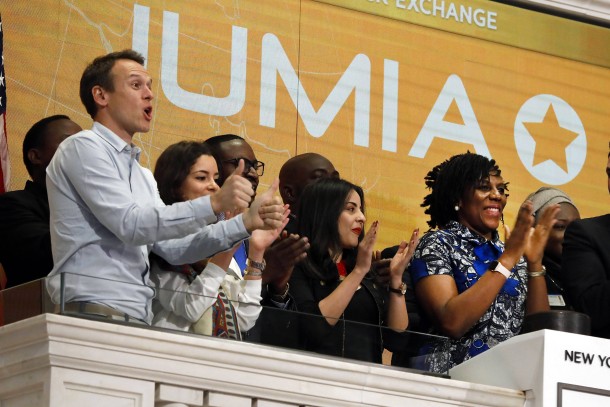 Die Chefs von Jumia feiern den Börsengang ihres Unternehmens an der Wall Street im April 2019.
(Faz) Es ist ein fulminantes Börsendebüt für das erste Tech-Start-up-Unternehmen aus Afrika in New York gewesen. Der Kurs der Aktie des Online-Händlers Jumia stieg am ersten Handelstag am Freitag um mehr als 75 Prozent in die Höhe. Das Unternehmen hatte den Börsenplatz in New York gewählt, um IT-Investoren anzuziehen, für die Afrika bisher ein weißer Fleck auf der Landkarte war. Mit einem Marktwert von 1,94 Milliarden Dollar ist Jumia gleichzeitig auch das erste Einhorn aus Afrika, so werden Start-up-Unternehmen mit einem Wert von mehr als einer Milliarde Dollar genannt.
Zum Börsenstart waren Mitarbeiter aus 14 afrikanischen Ländern nach New York gereist. Die Chefin von Jumia Nigeria, Juliet Anammah, läutete die berühmte Glocke zur Handelseröffnung. "All diese Leute haben es möglich gemacht und sind extrem stolz", sagte Sacha Poignonnec, einer der zwei Vorstandschefs, in einem Telefongespräch der F.A.Z. Es sei ein Meilenstein für Jumia, dessen Name aus einem afrikanischen Dialekt übersetzt "davonfliegen" bedeute.
"Sehr gesundes Geschäftsmodell"
Die Geschäftsidee hatten Poignonnec und sein Kollege Jeremy Hodara, als sie noch für die Strategieberatung McKinsey tätig waren. "Damals war der Online-Handel in China, Europa und in den Vereinigten Staaten schon etabliert, aber es gab keinen großen Anbieter in Afrika", sagte Poignonnec. Als die heute 38 Jahre alten Berater den deutschen Internet-Unternehmer Oliver Samwer trafen, hätten sie ihn ebenfalls von der Idee begeistert. Samwers Risikokapitalgeber Rocket Internet war zu der Zeit dabei, Online-Händler in Asien und Südamerika aufzubauen, und stellte auch für Jumia das Startkapital bereit.
Vor sieben Jahren startete Jumia zunächst in vier Ländern, in Marokko, Ägypten, Südafrika und Nigeria. Heute ist das Unternehmen in 14 afrikanischen Ländern aktiv. Rocket Internet ist weiter mit von der Partie, größter Anteilseigner ist mit einem Anteil von 30 Prozent der südafrikanische MTN-Konzern, der führende Mobilfunker in Afrika. Jüngst stiegen auch Mastercard und der französische Getränkekonzern Pernod Ricard ein. Jumia wirbt mit dem Spruch "100 Prozent Africa, 100 Prozent Internet".
Read the original article on Faz
About Jumia
Jumia is a leading e-commerce platform in Africa. Our marketplace is supported by our proprietary logistics business, Jumia Logistics, and our digital payment and fintech platform, JumiaPay. Jumia Logistics enables the seamless delivery of millions of packages while JumiaPay facilitates online payments and the distribution of a broad range of digital and financial services.
Follow us on, Linkedin Jumia Group and twitter @Jumia_Group