Jumia, l'« Alibaba africain », entre en fanfare à la Bourse de New York
La plate-forme panafricaine d'e-commerce Jumia a connu sa première cotation à la Bourse de New York ce vendredi 12 avril 2019. Le leader du commerce en ligne en Afrique a levé 196 millions de dollars à l'occasion de cette opération.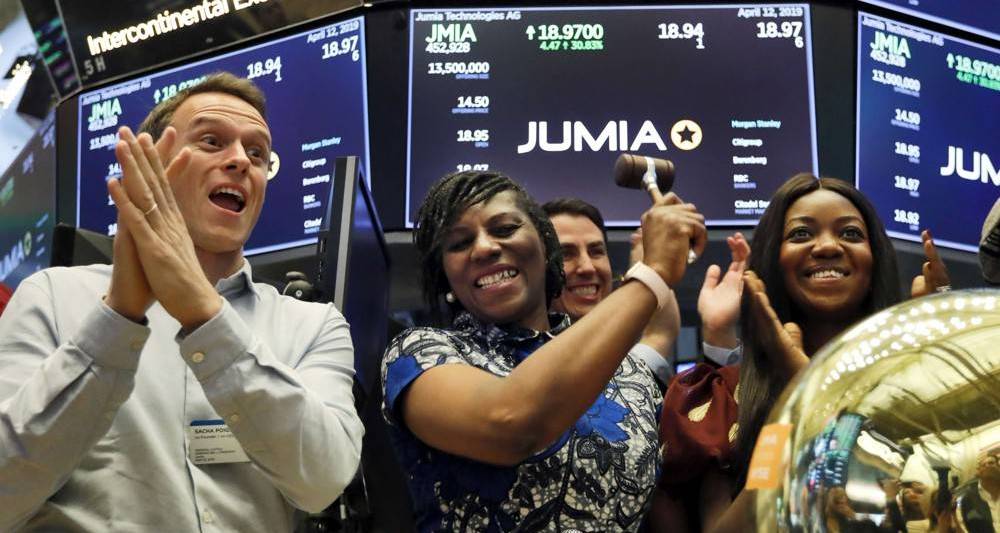 Sacha Poignonnec, cofondateur et codirigeant de Jumia (à gauche) applaudit la directrice générale de Jumia Nigeria, Juliet Anammah (au centre), qui sonnait la cloche ce vendredi matin à la Bourse de New York pour la première cotation de la plate-forme d'e-commerce africaine.
(Les Echos): Si les investisseurs attendent avec une certaine excitation, mais aussi un peu d'inquiétude, la cotation du géant des VTC Uber en mai à la Bourse de New York, pour ce qui devrait être la plus grosse introduction de l'année aux Etats-Unis, à une toute autre échelle ils ont montré, ce vendredi, un réel appétit pour les titres de Jumia, l'« Alibaba africain », mis sur le marché du Nyse. La plate-forme panafricaine d'e-commerce a vu son action gagner d'entrée près de 30 %, pour terminer la séance en hausse de 75,59%, à 25,46 dollars, valorisant la société à plus d'1,9 milliard de dollars. Jumia a ainsi levé près de 200 millions.
L'expansion de Jumia
« Nous sommes très heureux, pour nos équipes, nos vendeurs, nos clients », a réagi depuis New-York pour « Les Echos », Jérémy Hodara, cofondateur en 2012 et codirigeant de la jeune pousse africaine. « Nous devons continuer à travailler pour développer nos services dans plus de villes et pour plus clients dans les 14 pays où nous sommes », a-t-il ajouté. Pour le duo d'entrepreneurs français qu'il forme avec Sacha Poignonnec, cette levée de fonds doit financer l'expansion de la plate-forme, qui compte plus de 5.000 salariés, plus de 81.000 vendeurs actifs et quelque 4 millions de clients l'an dernier.
Jumia s'est développé à la fois sur la vente de produits en direct, sur une place de marché pour des vendeurs tiers, sur la vente de services, sur la mise en place d'un réseau logistique et d'un système de paiement, entre autres. La société reste déficitaire, mais elle a vu son activité croître encore fortement en 2018, de 40 % en un an à 130,6 millions d'euros. Le volume des transactions réalisées sur ses sites s'est élevé à 828,2 millions d'euros, en progression de 63% par rapport à l'année précédente.
Lire toute l'histoire sur Les Echos
About Jumia
Jumia is a leading e-commerce platform in Africa. Our marketplace is supported by our proprietary logistics business, Jumia Logistics, and our digital payment and fintech platform, JumiaPay. Jumia Logistics enables the seamless delivery of millions of packages while JumiaPay facilitates online payments and the distribution of a broad range of digital and financial services.
Follow us on, Linkedin Jumia Group and twitter @Jumia_Group