Mondia and Jumia launch exciting new gaming service on JumiaPay App for consumers in Africa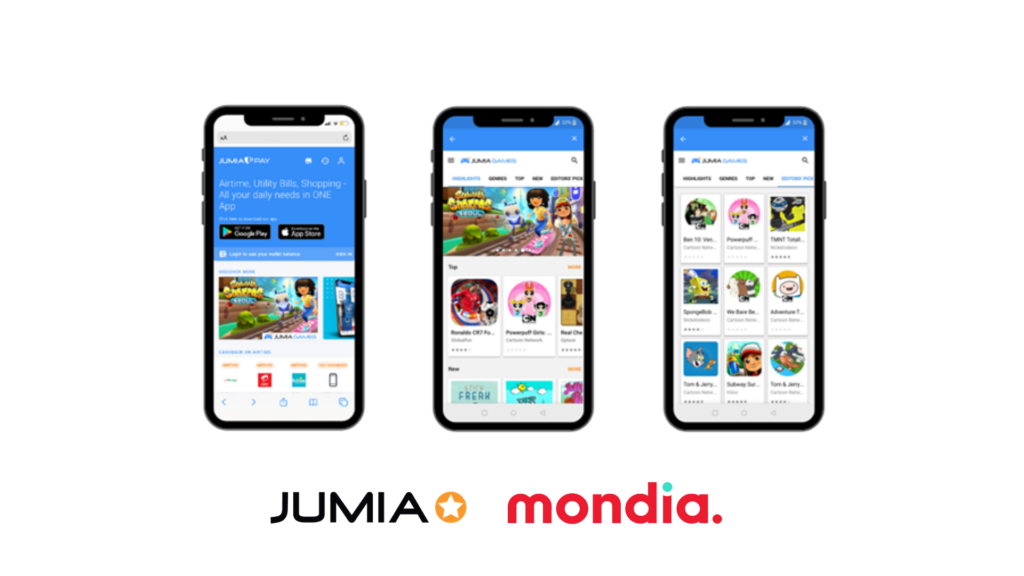 LAGOS, Nigeria, October 7, 2020/APO Group/ — Mondia (https://Mondia.com), a leading technology company which specialises in the marketing and distribution of digital content and Jumia (NYSE : JMIA) (www.Jumia.com.ng), Africa's largest e-commerce platform, today announced the launch of Jumia Games, a competitively priced entertainment category on the JumiaPay App.
In its first phase, the fully branded gaming portal is available in five African countries including Egypt, Nigeria, Morocco, Kenya and Ghana with plans to expand the service to Jumia customers in Tunisia and Côte d'Ivoire over the next few months.
With the subscription-based service, JumiaPay consumers will have full access to Jumia Games with thousands of high quality games such as CR7, Ben10, Tom and Jerry and Cartoon Network games.
The gaming industry is expected to grow at a CGAR of 12% (https://bit.ly/3iFsETr) until 2025 and with more than 200 million Africans who are below the age of 35, the continent has tremendous potential in the mobile gaming segment,
said Dr Amadeo Rahmann, CEO of Mondia.
This deal with Jumia further reinforces our reputation for delivering the best and latest digital entertainment to consumers. Our extensive expertise in the digital space puts us in a unique position to help brands transform their online customer experience and thereby help with customer retention and acquiring new customers,
said Dr Amadeo Rahmann, CEO of Mondia.
Sami Louali – EVP Financial Services at Jumia Group said, "We have always been at the forefront of providing our consumers with the latest and best products and services. With the launch of this new category on JumiaPay App, we are providing our consumers with an exciting digital gaming and entertainment experience. With the help of our partner, Mondia, consumers can enjoy entertainment services through our JumiaPay App in addition to other digital and financial services".
The partnership with Jumia falls under Mondia's enterprise vertical which aims to help companies capitalise on the digital relationships they have with their customers.
Subscriptions to Jumia Games gives customers unlimited access to all games with prices starting from €1.5 per month.
About Jumia
Our mission is to improve the quality of everyday life in Africa by leveraging technology to deliver innovative, convenient and affordable online services to consumers, while helping businesses grow as they use our platform to reach and serve consumers.
Jumia is the leading pan-African e-commerce platform active in six regions in Africa, which consist of 14 countries. Our platform consists of our marketplace, which connects sellers with consumers, our logistics service, which enables the shipment and delivery of packages from sellers to consumers, and our payment service, which facilitates transactions among participants active on our platform in selected markets.
Follow us on, Linkedin Jumia Group and twitter @Jumia_Group