Jumia and Raya Trade in a strategic partnership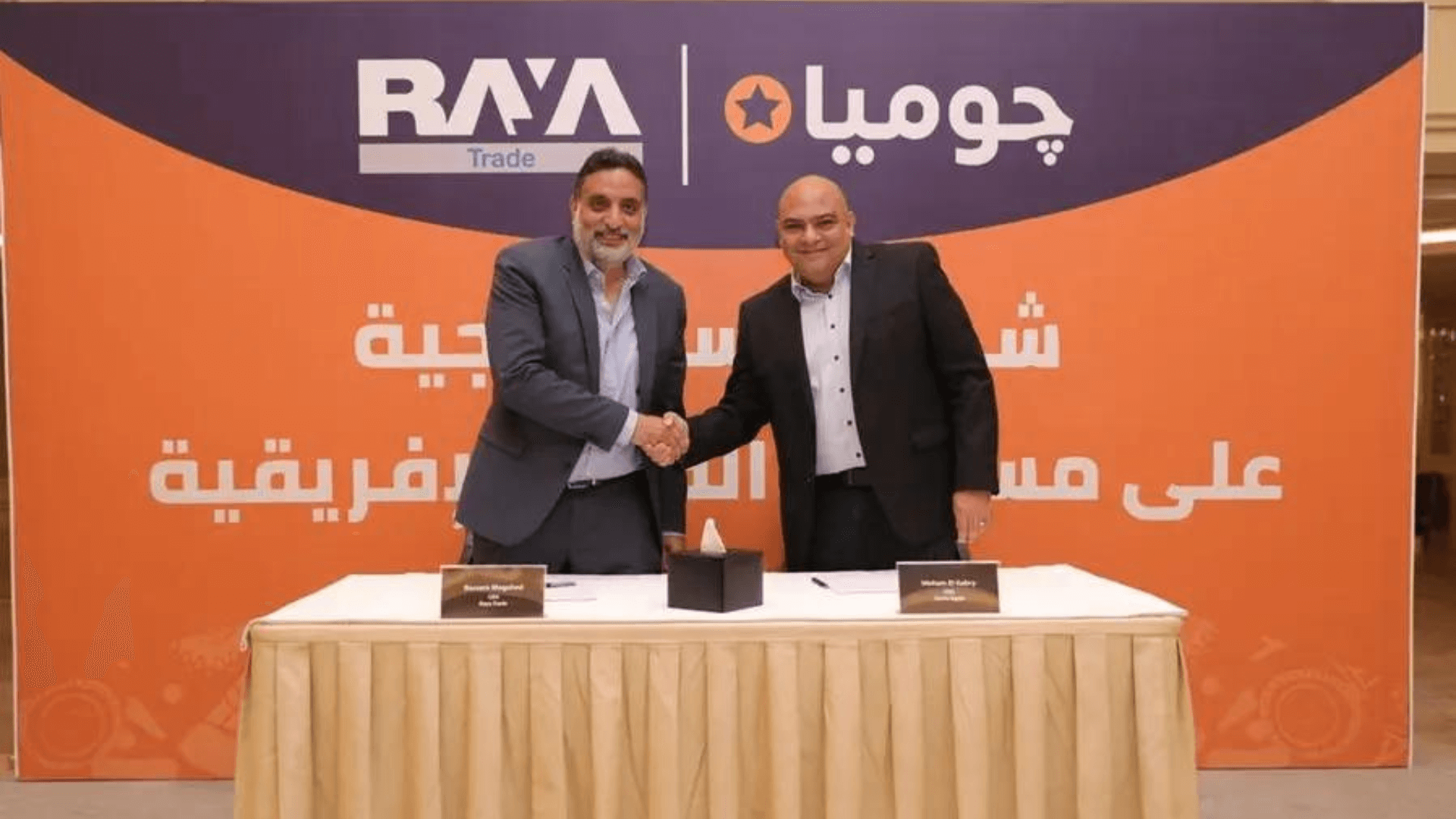 Raya Trade, a subsidiary of Raya Holding for Financial Investments, and Jumia, the leading e-commerce platform in Egypt, have announced the signing of a strategic partnership agreement, the first of its kind, to strengthen their operations in the local and regional electronics and home appliances markets and to expand their services and customer base.
The signing ceremony was attended by Mr. Bassem Megahed, CEO of Raya Trade, Mr. Hisham ElGabry, CEO of Jumia Egypt, as well as several executives from both companies and a number of media representatives.
As market leaders in their respective areas, Jumia and Raya bring their expanded capacities, fostering collaboration in e-commerce, export, logistics, and after-sales services in Egypt and Nigeria. This partnership aims to provide electronics and home appliances from various local and international brands at competitive prices supported by various payment methods such as installments, credit card payments, and cash payments to suit all segments of society.
Mr. Bassem Megahed, CEO of Raya for Trading, expressed his optimism about the partnership, highlighting its prospective positive impact on the market and both companies expansion. He emphasized, "Our partnership with Jumia ensures that customers have access to reliable guaranteed electronics and appliances at competitive prices with global quality standards that Raya is committed to fulfilling in all its services and products. The partnership is also consistent with our efforts to promote our operations in the e-commerce, in parallel with our expansion plans aimed at introducing more Raya store branches across Egypt, always prioritising proximity to our customers."
Megahed added: "For more than two decades, Raya has consolidated its partnerships with active and efficient key players in the Egyptian and global markets. Thus, we sincerely appreciate our partnership with Jumia, especially given their keenness to achieve excellence and commitment to quality standards and effectiveness in terms of products, purchasing processes, and after-sale services—as points of contact between the two partners."
On his part, Mr. Hisham ElGabry, CEO of Jumia Egypt, expressed his happiness with the strategic partnership with one of the leading national companies in Egypt. He emphasized the potential for this collaboration to create significant opportunities for Egyptian companies in the African continent and promote the export of national products. ElGabry affirmed Jumia's commitment to prioritizing customers and fostering an attractive environment for e-commerce growth in Egypt and the African markets.
El-Gabry added: "Since launched in Egypt 11 years ago, Jumia strives to meet all of the needs of its consumers, offering goods and products at affordable costs and of top-notch quality. Now, The two companies shall be working together to provide secure and fast purchase solutions, and recognize the importance of exporting local products to stimulate sellers to market their offerings in foreign countries, particularly in Africa, contributing to the country's foreign currency reserves for the benefit of sellers and the Egyptian state"
The first cooperative endeavor between the two parties was the launch of the Raya Shop store, a retail sales arm of Raya Trade, on the Jumia platform to give customers a distinctive shopping experience for home appliances and electronics. In addition to the possibility of introducing millions of Jumia customers to the exclusive offers provided by Raya, the company will be relying on the logistical services of Jumia, from storage to delivery services.
In addition to the strategic cooperation plans between Raya and Jumia, the partnership extends internationally and African-wise centered in Nigeria, where the two companies have a strong presence. Raya began its distribution and retail sales activities and after-sales service in Nigeria in 2007, while Jumia started its e-commerce business in Nigeria in 2012.
Read the original article on ZAWYA
About Jumia
Jumia is a leading e-commerce platform in Africa. Our marketplace is supported by our proprietary logistics business, Jumia Logistics, and our digital payment and fintech platform, JumiaPay. Jumia Logistics enables the seamless delivery of millions of packages while JumiaPay facilitates online payments and the distribution of a broad range of digital and financial services.
Follow us on, Linkedin Jumia Group and twitter @Jumia_Group