Jumia becomes first African start-up to list in New York
E-commerce company dubbed 'Africa's Amazon' valued at more than $1bn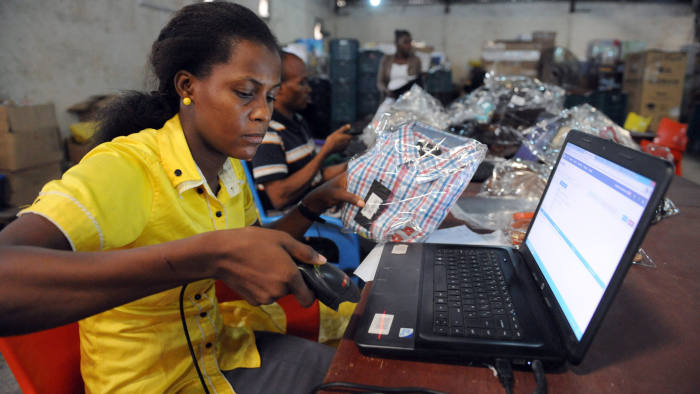 A Jumia worker scans a product at a warehouse in Lagos © AFP
(Financial Times): Jumia, an e-commerce company often referred to as "Africa's Amazon", has become the first start-up from the continent to be listed on the New York Stock Exchange after an initial public offering on Friday.
The company, which was founded in Nigeria by two French former McKinsey consultants and is backed by Germany's Rocket Internet, priced its initial public offering at $14.50, raising nearly $200m and valuing the company at $1.1bn.
That would make it the largest African IPO outside the energy sector. The shares closed up 75 per cent at $25.46
The company is considered a rare example of an African unicorn, a start-up with a value of more than $1bn, although it is often noted that many of its senior executives, investors and technical staff are from outside the continent.
Other backers include South African telecoms company MTN, the largest shareholder, as well as Orange, the French telecoms provider, Luxembourg-based Millicom International Cellular, AXA, the French insurance company, Pernod Ricard, the French spirits group, and Goldman Sachs.
"This is really positive for the entire African tech ecosystem" said Olumide Olusanya, chief executive of Gloopro, a Nigerian online procurement platform. Investments in African tech funds had soared in the past three years, he said.
"They have proven it is possible to do investments and in less than a decade have a positive outcome. It doesn't matter that it's 'not native'."
Jumia sells goods and services in 14 countries, with core markets in Egypt, Morocco, Nigeria, South Africa, Kenya and Ivory Coast. There are 80,000 active merchants on its platform, some of which receive credit from the company in the absence of available bank lending.
Last year, Jumia lost €170m on sales of €131m, compared with a loss of €165m on sales of €94m in 2017. Gross merchandise value, a favourite metric of online retailers, rose from €507m in 2017 to €828m last year.
The company is betting on increased smartphone use and broadband penetration to drive growth as Africa rapidly urbanises. The median age in sub-Saharan Africa is 19.5.
In its Securities and Exchange Commission filing, Jumia cited market research from Ovum showing that mobile broadband penetration in Africa was 32 per cent, or 399m subscribers, in 2017. This was expected to rise to 73 per cent by 2022, to more than 900m subscribers.
The company said that less than 1 per cent of retail sales in the countries it operated in were conducted online, against 24 per cent in China, a sign of how undeveloped the African online market was.
Jumia is one of the last e-commerce companies left standing thanks to its deep pockets and what investors see as its long-term strategy. Last year, Konga, a Jumia rival in Nigeria that had run into difficulties, was acquired by Zinox, a local tech firm.
"The majority of people that were institutional investors in Alibaba believed in the long-term story of China," said Steven Grin, managing partner at Lateral Capital, an African venture fund, referring to the Chinese internet giant. "Jumia is for smart long-term investors who want exposure to the African mass market."
In its filing, Jumia conceded the difficulties of doing business in Africa, whose more than 1bn potential consumers live in 54 countries with different regulations, business environments and political-risk profiles. In many markets, where credit card and online payment systems are nascent, Jumia has resorted to a cash-on-delivery model, exposing it to both financial and reputational risk.
"We face challenges with failed deliveries, excessive returns, late collections, unrecoverable receivables, and voucher abuse," it said.
In Nigeria, the online retail world was shaken in 2017 when a third-party agent working for Jumia was murdered.
Mr Grin said Africans were increasingly willing to shop online, particularly in cities with bad traffic congestion such as Cairo and Nairobi. Jumia had put itself in a strong position, he said, by reaching critical mass while others had fallen by the wayside. That made it the logical partner for new entrants, such as Alibaba or Amazon, he said.
Read the original article on Financial Times
About Jumia
Jumia is a leading e-commerce platform in Africa. Our marketplace is supported by our proprietary logistics business, Jumia Logistics, and our digital payment and fintech platform, JumiaPay. Jumia Logistics enables the seamless delivery of millions of packages while JumiaPay facilitates online payments and the distribution of a broad range of digital and financial services.
Follow us on, Linkedin Jumia Group and twitter @Jumia_Group