TheAfricaForum: Women Working For Change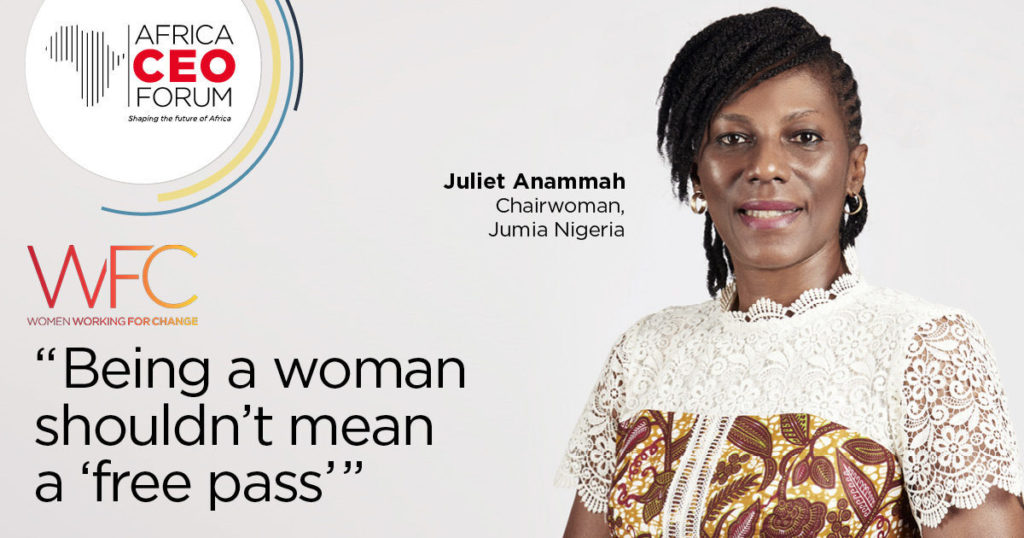 Chairwoman of Jumia Nigeria and the group's Head of Institutional Affairs, Juliet Anammah holds a pharmacy degree from the University of Nigeria, Nsukka, and an MBA in Finance from the Enugu State University of Technology Business School, Lagos. She began her career at sales and marketing consultancy firms before joining Sanofi Adventis, where she stayed for eight years. In 1999, she joined Accenture Nigeria, firstly in the strategy department, then, from 2004, in the Nigerian market section, which was in its infancy. This is where, for the first time, she took on management responsibilities.
In 2015, Juliet Anammah branched out into digital, where she saw transformative potential. Jumia was then only three years old, and offered her the CEO position at Jumia Nigeria. In addition to this role in management and strategy, Juliet showed a commitment to forming public-private partnerships, which led her, in February 2020, to combine her executive role with that of Head of Institutional Affairs for Africa.
Are you happy to be a businesswoman in Africa?
I'm happy to be a woman. And to be a businesswoman… even more so in Africa.
According to a recent study by the firm Boston Consulting Group (BCG), if women and men participated equally in the global economy, global GDP could grow by 6%. What are your thoughts on that?
This is proof that diversity is needed in business, in management and on boards of directors. Women and men must be present in all spheres of the company, within teams and at the decision-making level. If that were the case, our society would be much better off.
Is there such a thing as "female leadership"?
I think that talking about "female leadership" is far too broad. Women – just like men, for that matter – have personalities that vary too widely to talk generally about female leadership, just like male leadership.
Have you ever felt that you encounter specific obstacles in your career because of your gender?
When I was younger, I did have to deal with some inappropriate behavior, but that hasn't happened for a long time. I know a lot of women face this every day, and it's awful.
What are your responsibilities in your current position?
I have two main roles: Chairwoman and Head of Institutional Affairs for Africa at Jumia Nigeria. The latter role requires me to build partnerships with institutions (such as the UN, e-commerce agencies, and governments) to improve the efficiency of e-commerce on the continent. When Covid-19 appeared, we realized the importance of partnerships between business and the public sector.
Do you think it is more difficult to be a woman in the world of work in Africa than elsewhere?
African society is probably more paternalistic, and women likely have more domestic responsibilities that take up a lot of their time. Those in leadership positions in Africa today have had to work hard to find the right balance between career and family life.
Is there a gender strategy in your company?
Yes. Jumia is working hard on equal opportunities for men and women in the company. But we are also careful that being a woman is not a "free pass" to any position. That is why we make a great deal of effort to recruit highly qualified women. We have also established a system of paid maternity leave and we can be flexible with work schedules for women if necessary.
What do you see as the main challenges Africa is facing with regard to the Covid-19 crisis?
There is quite a challenge around the understanding, and importance, of the digitalisation of work on the continent. It is important that institutions and governments put in place tools to accompany this shift, such as e-commerce and digital payment. These needs become even more essential after a pandemic like Covid. In my work, I am trying to identify what the next steps are for Africa.
Professionally, do you have a female role model who inspires you?
I've had several in my career. Currently, the one who inspires me most is German Chancellor Angela Merkel. She is pragmatic, and the way she has handled the coronavirus crisis in her country is remarkable. At the same time, she has had to deal with extremely critical political and economic situations, and has always taken sensible decisions. She's a woman who knows how to govern.
What about a male role model?
Paul Kagame [President of the Republic of Rwanda]. He turned an entire country around in a few years while it was in the midst of a civil war, and he did so in an admirable way. Rwanda is also the country in the world with the highest representation of women in Parliament (63%).
Is there an African company you admire?
Jumia! Our main assets are our resistance and adaptability. The speed of decision making is incredible, and the management is remarkable. And I think the company is very representative of the continent.
Do you take an active role in any associations or women's networks, or do you mentor?
I am a member of the Africa Leadership Network [ALN], which aims to bring together the continent's leaders to transform Africa. I am also a member of the Africa CEO Network, the network of the Africa CEO Forum, and some women leaders' organisations.
What kind of young woman were you at 20 years old?
I was adventurous, or at least I dreamed of adventure. I was very curious – I read a lot of books to help me understand everything that was going on in the world.
Are you where you've always wanted to be?
Today yes… but maybe not tomorrow… I really like what I'm doing today. But who knows whether I'll want to discover something completely different tomorrow!
Which book/film/series/CD made the most impression on you?
It's very hard to choose, but if I had to choose three books that have had a profound impact on me, I would say: Principles, by Ray Dalio [2017], A Curious Mind, by Dan Grazer and Charles Fishman [2015], and finally The Art of Thinking Clearly, by Rolf Dobelli [2013].
What do you do to relax after a day's work?
I love to read, especially history, economics, and psychology books. I also cook a lot, and I walk several kilometres every day, which is very important for my equilibrium.
Which country in Africa would you like to visit?
As soon as the situation is restored and we can travel again, I would like to go to North Africa. I have only been to Egypt, and I dream of visiting Morocco, Tunisia and Algeria.
Read the original article on The AFRICA CEO FORUM
About Jumia
Jumia is a leading e-commerce platform in Africa. Our marketplace is supported by our proprietary logistics business, Jumia Logistics, and our digital payment and fintech platform, JumiaPay. Jumia Logistics enables the seamless delivery of millions of packages while JumiaPay facilitates online payments and the distribution of a broad range of digital and financial services.
Follow us on, Linkedin Jumia Group and twitter @Jumia_Group